Mead making was an idea that got kicked around for a long time, spent ten year's thinking about it, thought it was impossible, and then last summer the opportunity presented itself, let us celebrate. The long awaited, is finally here. Drum roll please! Door Peninsula Winery has newly cast mead, bottled, and on the shelf at its winery in Carlsville. The mead is available at its retailers throughout Wisconsin as well as its online store. The mead is finally here, now let us celebrate!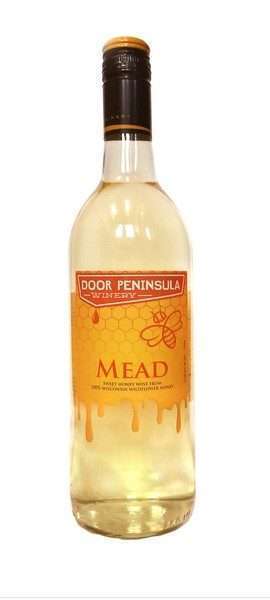 A craft mead movement is underway as interest in this ancient drink is becoming the fastest growing part of the U.S. beverage industry. Mead is wine made from honey. It is the world's first fermented beverage. Archeological evidence from China dates mead to about 7,000 BC. Mead appears wherever honeybee migration routes are seen around the world, from Africa to nearly every continent.
The ingredients are basic; honey, water and yeast. If water mixes with honey and yeast, it causes the mixture to ferment creating alcohol content from 6 to 18%. Mead is the source of many myths and legends told the world over covering romance, wisdom, creativity, unparalleled strength and mischievous liveliness. Let the storytelling begin!
What is old is new again.
Allan Hyland is Door Peninsula Winery's winemaker extraordinaire. Hyland created the perfect light, crisp, mead that expresses lingering honey notes. Can you guess the honey's source? Pretty obvious, it comes from Sweet Mountain Farm's honeybees. If you have tried Sweet Mountain Farm honey, you know how good it is. It is the one ingredient that makes this mead awesome.
The first Sweet Mountain Farm honey delivery took place last fall. Now is the time to pick up a bottle and celebrate. Door Peninsula Winery is open daily from 9am to 5pm, 5806 Hwy 42 in Carlsville, 800.551.5049. Winery tours occur every hour from 10am to 4pm. Please tell the folks at Door Peninsula Winery, (DPW) that Sweet Mountain Farm sent you. You might also mention that you appreciate them sourcing from local producers. If you are out of the area but still want to sample this amazing mead, the DPW online shopping cart offers 10% discount on 6 bottles, 20% discount per case.