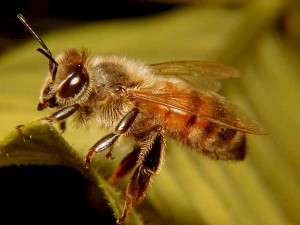 Russian Bee Colony Defense
It has been observed that the Russian colony is more defensive during the first brood rearing cycle.
At SMF we rarely smoke the hives during inspection.
The hive is generally quiet when gently manipulated.
Each colony will have its own unique temperament for the day.
A falling barometric pressure seems to aggravate the colony.
Russians need to be kept in their own bee yard to prevent aggressive and aggrevated colonies. Bees from a mixed yard will rob each other and produce less honey.
(Next Russian Bee Late Season Management)
"Nobody around here had ever seen a lady beekeeper till her. She liked to tell everybody that women made the best beekeepers, 'cause they have a special ability built into them to love creatures that sting. It comes from years of loving children and husbands."
— Sue Monk Kidd (The Secret Life of Bees: (Penguin Essential Edition)
"After you get stung, you can't get unstung no matter how much you whine about it."
— Sue Monk Kidd (The Secret Life of Bees)