Russian Bee History begins when the USDA investigates the possibility of Varroa resistant bees in Far-Eastern Russia.
National Geographic explains how hardy Russian bees have been used to fortify the dwindling U.S. honey bee population.
The following information about Russian Bee History is taken from the USDA website: 

History
1994
The USDA begins the Russian Queen Breeding Program making contacts in the Primorsky Territory of Far-Eastern Russia and a 5 year research agreement is set to investigate the possibility of Varroa resistant bees. The latitude of the Primorsky territory is 42 – 48 degrees. Washington Island, Wisconsin is 45 degrees latitude.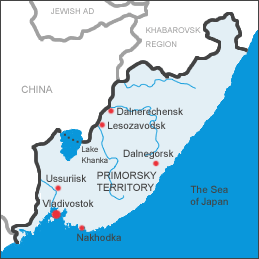 1995
The USDA took a "Road Trip" to the Primorsky Territory and collected 50 Queens from local beekeepers.
1996
The USDA set up resistance testing to Varroa in Russia while conducting a concurrent test at the Honey Bee Research Lab in Baton Rouge, Louisiana.
1997
Imported 100 Russian Queens. Queens go into quarantine on a barrier island in Louisiana.
1998
Evaluate, test and collect more Queens from Russia.  
1999
Long term resistance test continues. Second Queen importation from Russia to Quarantine. Block A field trials.
Title: "EVALUATIONS OF THE VARROA-RESISTANCE OF HONEY BEES IMPORTED FROM FAR-EASTERN RUSSIA" 
"At the end of the honey production season, daughters of Russian queens selected as breeders had a 4.1% worker brood infestation, daughters of Russian queens not selected as breeders had a 7.1% worker infestation and domestic colonies had a 9.3% infestation, suggesting the resistance was heritable."
2000
Third Queen importation from Russia to Quarantine. Test yards set up.  Block B field trials.
2000
2001 –2002 –2003
Title: Overwintering of Russian Honey Bees in Northeastern Iowa
"The survival, tracheal mite infestation, worker population and weight loss of colonies from Russian test lines were evaluated during three winters (2001, 2002 and 2003) in Cresco, Iowa. Overall, 90% of the colonies survived the period from November to April".
2004
Title: UNUSUAL QUEEN CELL CONSTRUCTION AND DESTRUCTION IN APIS MELLIFERA FROM FAR-EASTERN RUSSIA
"An unusual observation was the behavior of sealed cells being opened and emptied from the end depicting an emerged cell, however the data explains this is not possible due to the development stage."
2005
2006
2007
The USDA turns over the propagation and distribution of Russian Queens to the Russian Honeybee Breeders Association
2009
 Title: Genetic characterization of Russian honey bee stock selected for improved resistance to Varroa destructor
"The data indicate that the overall design of the breeding program has been successful in maintaining high levels of diversity and avoiding problems associated with inbreeding." (Next Russian Bee Yard)