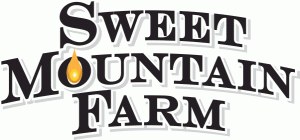 Hybrid Russian Northern Nucs
SOLD OUT
Last Chance
to order Certified Southern
Russian nucleus colonies and hive/nuc combinations
Every year Sweet Mountain Farm is inundated with beekeepers who waited too long to order bees. Don't wait until spring to order your colonies or hives. Now is a perfect time to make your choices and customize that hive.
Don't delay. We have beautiful Cedar hives MADE IN WISCONSIN. Before you purchase from a  megastore, consider doing business with a local  family business. Get to know us and take pride that your hive is built in the USA!
CERTIFIED SOUTHERN bred stock will be available for pick up on May 19, 2018.
Before purchasing a Russian nucleus colony, please visit the Sweet Mountain Farm website to read about the significant differences of this honeybee species. Russians require a more attentive management style, so please, do your research before you make a purchase!
5 Medium Frames
The nucleus is a complete colony with drawn comb and bees in all stages of development. Colonies are raised in the South. This means that the colony you are purchasing was started in March and is roughly two months ahead of northern bred bees. Each nucleus consists of five frames. One frame is slightly drawn and is used for expansion and transport. Each nucleus will have approximately 2 frames of honey/pollen and 2 frames of brood. The colony is packaged in a portable transport box made of plastic Correx that you may keep.
Important Information about Nucleus Hives
1. Nucs sell out quickly. Order early!
2. Payment is due with the order
3. Cancellation before 3/31/18 is refunded less $20 per nuc.
4. No refund after 3/31/18
Pick up: May 19, 2018 (Tentative Date)
Locations to be announced via email
Green Bay, 11:00 a.m. – 12:00 p.m.
Sturgeon Bay, 1:00 p.m. – 1:30 p.m.
Sister Bay, 2:00 p.m. – 2:30 p.m.
After May 19, 2018
Pick up by appointment
Washington Island, 10:00 a.m. – 3:00 p.m.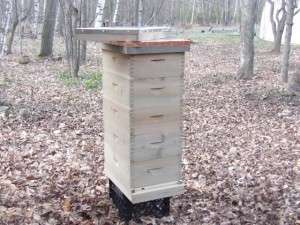 The craftsmanship is remarkable and the hive is designed by me for my Russian honeybees. There are lots of features included that make this hive an optimal environment for honeybees. Customize your outer cover and hive coating.
Hive/Nuc Combination
Check out the price on a 5 box hive and nuc combination $516.50
ATTENTION! SHOPPING CART DELIVERY TIMES WILL NOT APPLY TO YOUR ORDER WHEN ORDERING NUCLEUS COLONIES OR BEEHIVES ONLINE!