Many people today suffer allergies and skin sensitivities that demand knowing exactly what ingredients are on their skin. Persistent dry skin is found with frequent washing or with workers who are in constant contact with dirt, chemicals and friction. Consumers want healthy cleaning choices and Castile soap is the perfect choice. Rediscover Castile. Castile is basic, has few ingredients, is environmentally friendly, and safe for babies and pets.
The first recorded soap
Castile has been used for centuries and is experiencing a popular resurgence. Soap, first discovered in ancient Syria and Egypt, was made from Laurel oil and crafted into a hard bar for Cleopatra. Records from the 1st century indicate the Romans were aware of its use, but substituted olive oil since it was easier to access. Soap production, during the 9th century grew rapidly and the Kingdom of Castile (a country of castles), what is modern day Spain, became its epicenter.
In Europe, the first soap was made with animal fat but people who could afford to buy Castile soap loved its pleasant smell and how it did not leave residue on skin, making it easy to rinse off clean. It provides skin a pH balance and removes 99.9% of germs, ideal, when experiencing cold or flu bugs and allows frequent washing without causing dry skin.
Castile is safe for problematic skin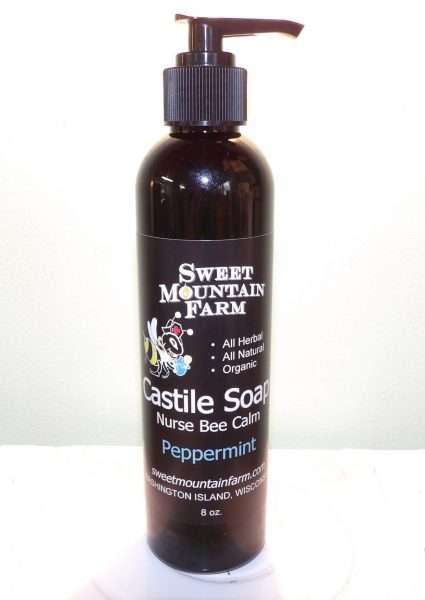 For anyone who suffers from sensitive skin, Castile is non-toxic. Fewer ingredients in soap mean the chance of a bad reaction decreases. Sweet Mountain Farm's Castile soap is all herbal, all natural and 100% organic. It contains only essential oils and no fragrances. Reactions from non-essential ingredients are minimized with its basic ingredients. There are no colors or dyes. This soap is safe for people of all ages to use, and is free of harmful chemicals.
Rediscover Castile. Castile is safe. If a child or pet happens to lick its skin, the soap is non-toxic but if the soap gets into the eyes it will cause tears. When suffering from eczema, skin is itchy, inflamed, often broken, and highly sensitive. Castile soap is the best choice to clean and calm skin since it is made from oil, which softens and calms problematic skin. Castile soap uses 100% plant based oil; it contains no animal-based products.
Castile soap is perfect for all types of cleaning; as dish soap, all-purpose cleaner for sinks and countertops and is the most effective alternative to abrasive cleansers that scratch surfaces.
Cautions when using Castile
Castile soap is safe but some applications are not recommended:
More is not better. Castile soap is concentrated, use a few drops.
Don't use Castile soap in a dishwasher or washing machine. It causes excess bubbles.
Hard water can leave behind a white film in sinks. Rinse the film with a vinegar/water solution.
Test your hair before using Castile as a shampoo. Color can be stripped from dyed hair.
Rediscover Castile, start experiencing the benefits, you will be pleasantly surprised. Castile soap is a gentle cleanser that lasts a long time. Feel confident, you are using a safe, gentle, and environmentally-friendly cleaning product. If you want to try Castile soap, Sweet Mountain Farm has its first 16 bottles available on the website at sweetmountainfarm.com. It comes in soothing, icy cool peppermint, a convenient 8 oz pump bottle.