By: Ana McCabe July 20, 2022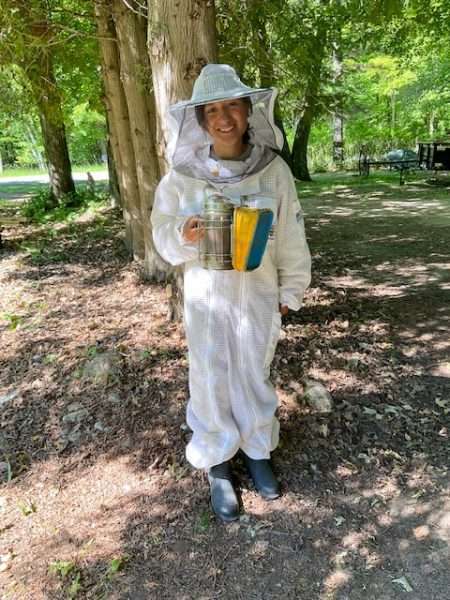 "I think everybody should have access to healthy and nutritious food."

-Crystal Guzman
Crystal Guzman grew up in Illinois with a passion for good food and a love of the outdoors. She shares this love of food with her two older brothers, mother, and father. The ethnic cuisine of Mexican culture connects Guzman to her hispanic heritage and relatives in Mexico.
"Whenever we get mad at each other it is usually because of food, and when we are all happy it's because we are all eating a good meal together," Guzman laughs. "I just really wanted to learn more about where food actually comes from and how it connects people culturally. I found that it connects me to my family in a deeper way, especially my grandparents."
Guzman's passions for sustainable food and a healthy environment run deeper than an occasional hike through Acadia National Park or eating the local cuisine of Bar Harbor, Maine. Guzman is studying human ecology and agricultural sustainability at the College of the Atlantic, in Bar Harbor, Maine, to help improve access to sustainable and nutritious food for all individuals.
"I have always wanted to work in some sort of food justice or food security organization that helps fight food insecurity because my family grew up very food insecure," Guzman said. "I want to help other families in similar situations. I think everybody should have access to healthy and nutritious food and a lot of people don't."
Guzman applied for the Gathering Ground Summer 2022 Internship to expand her knowledge on agricultural sustainability she learned throughout her studies and time spent working at Beech Hill Farm. This vegetable farm, connected to College of the Atlantic, sells CSAs to community members and produce to local restaurants and farm stands. Beech Hill Farm also has a voucher program called Share the Harvest that focuses on battling food insecurity.
"I saw that Gathering Ground sounded in line with what I was doing at school," Guzman said. "I thought being on Washington Island would be a lot of fun. It sounded like this would be a great opportunity to work on different kinds of farms then what I have worked at before."
Guzman envisioned long summer days crouched between beds of vegetation, weeding, planting, harvesting, and learning more about the connection between locally produced food and food insecurity. However, Guzman is instead working with thousands of Russian bees at Sweet Mountain Farm with myself (another intern at Gathering Ground), and Sue Dompke, owner and head beekeeper. With just a few weeks working at Sweet Mountain Farm, Guzman is beginning to understand that the busy world of bees is much more intricate than producing honey useful to sweeten her matcha lattes or drizzle on peanut butter toast.
"I have never worked with bees. Honestly the only thing I knew about them was that they die after they sting you," Guzman laughed. "I regret not learning more." When Guzman first put on the extra large bee suit over her 5' 1" self, coarse fabric bunched around her ankles, mirroring the folds of white drooping off her shoulders and gathering at her sleeves, she anticipated the presence of her new co-workers. However, this introductory encounter of the buzzing Russian bees was unlike any other experience she had felt before.
"I was a little nervous. My mom is extremely scared of bees and I think she passed that fear onto me a little bit. But putting on the bee suit and being around so many of them was really an amazing experience," Guzman said. "I began to appreciate them a lot more. I didn't really like the buzzing at first. When they are swarming all around you it is very unnerving. But after a while the buzzing became sort of calming. We got to see them up close and the little dances that they do." Guzman smiled. "Just getting so close to the honey and finding the queen was not at all what I expected." The effort, patience, and observational experimenting required to run a sustainable apiary is evident to Guzman. She is excited to continue working at Sweet Mountain Farm and learn more about these delicately intricate creatures that carry a big weight on their wings. The job of bees, Guzman is discovering, plays a major role in agricultural sustainability.
---
Ana McCabe is a student at Augustana University in Sioux Falls, SD. She is majoring in journalism and environmental studies with an emphasis in agricultural sustainability, and minoring in American Sign Language. McCabe is passionate about sharing lessons, ideas, and stories focused on the health of the environment and the impact of societal ecological footprints. McCabe also has a passion for sharing sustainable recipes and regularly posts on her food instagram: foodalicious_yum. Additional work and visual content can be found on her agricultural sustainability blog: https://anamccabe.wordpress.com/blog/
---