A Lottery Winner Reports
Sweet Mountain Farm entered the annual Wisconsin Department of Natural Resources (DNR) land lottery. A winner spends an incredible day with Alex Wenthe, Wisconsin's leading Conservation Biologist. As luck has it, a winning ticket comes in pairs. Joe Henry, District Ecologist tagged along offering his knowledge about the Niagara Escarpment providing context to understand rock formations and water flowing into the wetland, as well as his expertise in identifying endangered species. Both specialists are scientists from the Natural Heritage Conservation Bureau. The outcome is learning all about the history and preservation of the areas soil, animals, plants and insects. The greater outcome encompasses the power of observation and taking time to notice life within the natural environment.
It takes about 45 minutes, if not paying too much attention, to walk the perimeter of Sweet Mountain Farms 18 acre parcel. Often, I walk the land without noticing important details. This day, a leisurely 2 hour observation uncovers some of nature's awesome activities. The wetland is a feeding place for the endangered Hines Emerald dragonfly.
Notice too, the beautiful but deadly takeover by invasive species such as European Marsh Thistle prized by the honeybees, Autumn Olive, or barberry which displays its delicate waxy leaves that turn fiery red/orange during its fall pageantry.   This land is truly remarkable in its diversity but can be easily choked out by invasive species. This land is a natural resource worthy of deeper understanding. Implementing conservation practices demonstrates caring about natural beauty. Considering the use of this small bit of paradise, it is common sense good stewardship to preserve the land so that it can shared with my kids and grand kids.
A dense canopy of Northern White Cedars barely lets a ray of sunshine reach the forest floor yet the Pileated Woodpecker finds a haven, capturing carpenter ants by drilling rectangular holes in the cedar. A circular hole drilled by the male beckons the female to nest.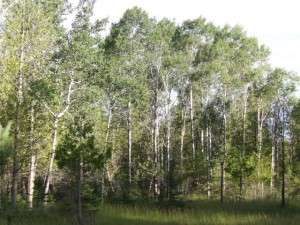 A grove of fluttering Aspen at the end of their lifespan makes way for regeneration. The honeybees converge upon the wetland in a frenzied bucket brigade transporting water back to the colonies.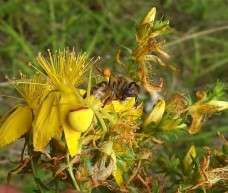 Observation takes time. Take, for instance, the picture at the left. Can you tell me what is going on? Time stood still during this observation. At first glance it is a honeybee with corbicula (a basket) full of orange pollen. Examine more closely. The honeybee is dead. Now imagine a biologist, ecologist and beekeeper spying a dead honeybee with a corbicula full of pollen that has never made it back to its colony. The situation requires more observation. Inconspicuous, a predator lurks discretely in disguise. It wasn't CCD, foraging on chemically treated crops or a viral infection. The death was nature's survival of the fittest.  The predator, a chameleon like female crab spider, turns from white to yellow depending on the surroundings. It waits motionless then pounces on a delicious pollinator. The red stripe identifies that she is female.
Two hours is not enough time. There is so much to observe and enjoy at Sweet Mountain Farm. Check back next month to read the official  DNR conservation report compiled by Alex Wenthe. The report will reference the days observations and will arrive this fall compliments of the Wisconsin Department of Natural Resources and the land lottery. Find out more about the Natural Heritage Conservation Programs at dnr.wi.gov.