Mission Main Street Grant Statistics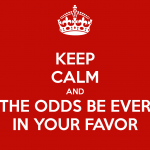 How many entrepreneurs would like to know the odds of receiving the Chase Mission Main Street Grant?
What are the chances?  I'm sure that there are a few people who find the numbers fascinating and others who are anxiously awaiting the results.
A statistical sample was taken today, just one day before voting ends,  from 14 major metropolitan markets. The total number of businesses applying for the Chase Mission Main Street Grant within those 14 markets was approximately 2,309. The sample is 99% statistically significant since, given the population size, the margin of error is merely +/- 1%.
There were 588 entrants who (as of Thursday, October 16, 2014) moved onto the next level.  That represents about 25% of those who entered. Looking at the votes, there were 118 applicants that received more than 300 votes. That translates to about 5% of all applicants in the 14 major markets received more than 300 votes.
Since there are 20 grants that will be awarded, given the 588 moving on, roughly 3% will receive a grant, or roughly 1 out of every 33 who qualify. Do you like this statistical analysis? I'll be posting more. Go to the Sweet Mountain Farm Facebook page and like us. You will be the first to know when more statistical data is available.
Our goal is to keep this information timely and accurate. If errors are brought to our attention, we will try to correct them. Some of the data sets are provisional and may change. Sweet Mountain Farm, LLC gives no indemnity as to the correctness of the information or the data given here. Sweet Mountain Farm, LLC shall not be liable for any loss or damage arising directly or indirectly from use of the data supplied herein.  
Voting is now closed. We made it to the next round with 335 votes.